A happy new year to you all, and welcome back to the MTA Book Blog!
It doesn't feel like very long ago at all that we were shining a light on our picture books for brighter times — I do hope you were able to enjoy that fantastic Brighter Times discount! And now here we are at the start of a brand-new year, hopefully full of brighter times ahead but definitely full of fabulous books just waiting to be discovered!
In the spirit of things that are brand new, for this first post of 2022, we're going to be taking a closer look at some perfect picture books to support children who are starting school for the very first time this year.
Starting school is undoubtedly one of the most enormous and most emotional milestones in a young child's life, and never more so than right now. With many of the children moving up into primary school this year having spent the last two years with decidedly disrupted routines, the transition to primary school is likely to be one that is approached with understandably increased anxiety and trepidation. As always, books to the rescue.
We have selected some utterly wonderful picture books to help young children prepare for the move mentally, physically and emotionally in our Starting School Book Pack. So grab your lunchbox, say one last goodbye to the cat and check you've got your lucky scrunchie, because we're off to school!
'First Day' by Andrew Daddo and Johnathan Bentley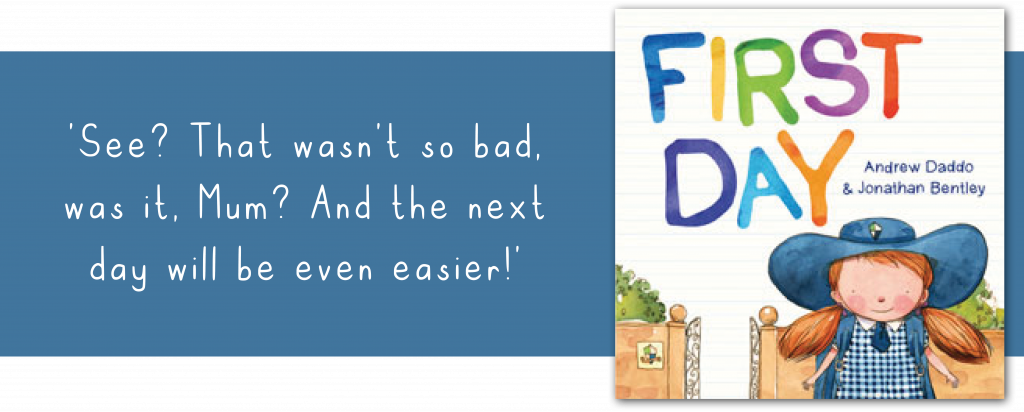 We start the day with the sweet and touching 'First Day' by Aussie author/illustrator duo Andrew Daddo and Johnathan Bentley. In 'First Day', we join a little girl and her mum as they prepare for the first day of school. But who is reassuring who?
In this cleverly written story, it's not until the final page that the narrator becomes clear, and we realise that it's the little girl who has been speaking the comforting words to her mother throughout, coaching her through the day, anticipating the challenges and conceding that she too has some first-day nerves.
'I might have to be a bit brave, too.
But it's not for long.
Let's meet here when the bell goes.'
The transposition of traditional adult/child roles in books is always a source of delight for children, and 'First Day' is a great example of this. In demonstrating that those feelings of anxiety and uncertainty are not only natural but also shared by a big-brave-all-knowing adult, the book brilliantly models emotional vulnerability and allows children to find comfort in knowing they're not alone in their first-day feelings.
'Starting School' by Jane Godwin and Anna Walker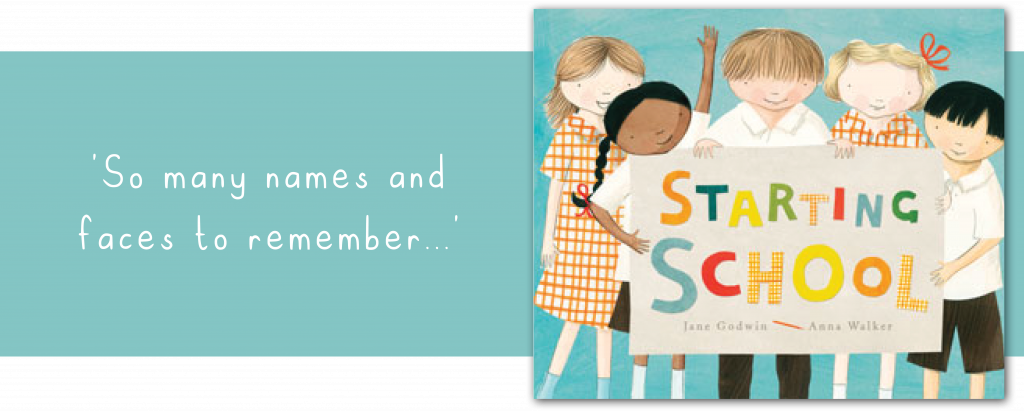 For our next lesson, we'll be looking at the gorgeously illustrated 'Starting School' by another Aussie author/illustrator team, Jane Godwin and Anna Walker. In this story, we are introduced to five children on their first day of school. Each child has different expectations coming into the classroom, and each one has a very different first-day experience.
'Polly is trying to be brave.
Sunita doesn't know anyone, but she feels ready for school.
Hannah feels excited, but Tim doesn't want to leave his mum.
Joe has found an interesting book about dinosaurs.'
For me, it's this diversity in the experiences that are presented that is the most valuable element of 'Starting School'. As children approach school age, this also coincides with the development of their 'theory of mind'; the understanding that other people have motivations, emotions and experiences of events that may differ from their own. This is crucial for a child's social-emotional development, particularly within the context of establishing new friendships and relationships in a school community.
A follow-up discussion with your new starters about which one of the children in the story — if any — had the same feelings they did on their first day will encourage children to share their own experiences, promote empathy and further develop their theory of mind as they acknowledge the diversity of experiences within their new classroom.
'The Wild Guide to Starting School' by Laura and Philip Bunting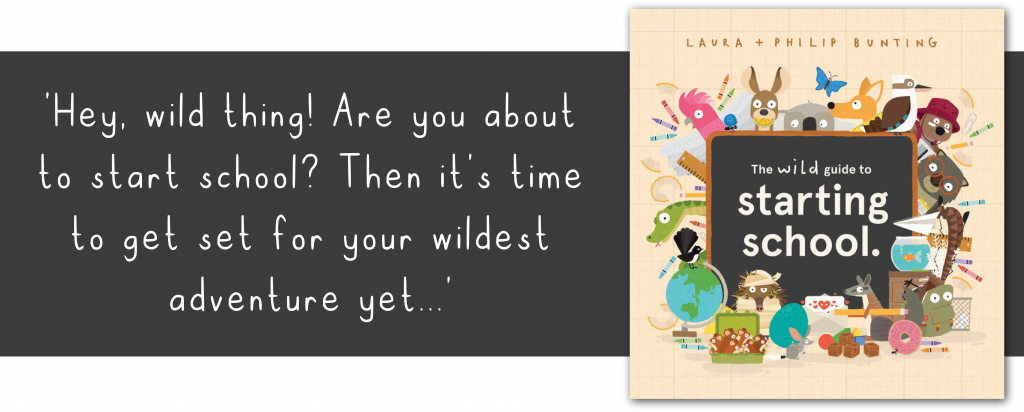 For our final lesson of the day, we're in for a real treat with an adorably hilarious picture book from powerhouse Aussie husband-and-wife team Laura and Philip Bunting. If laughter is the best medicine, then allow me to prescribe a big gulp of 'The Wild Guide to Starting School' to soothe those first-day jitters. 'The Wild Guide to Starting School' reads as a how-to guide that will have your little ones giggling on every page as they learn what to do and — importantly — what not to do when they get to school. Helpful tips include:
Scissors are for chopping paper, not haircuts.
When making new friends, try to avoid licking.
It is not okay to eat the teacher.
Do not poop in the sandpit.
Do not poop on your teacher.
You don't win friends with poop.
At this point I should probably point out that the characters in 'The Wild Guide to Starting School' are all Australian animals (although would it be that much of a stretch?), which adds fantastic comic value and allows for some truly brilliant illustrations. However, amongst the silliness there is genuinely helpful advice, as well as some big-hearted truths about how devoted and caring teachers are and how everyone is feeling lots of Big Feelings, all of which are valid and all of which are perfectly normal.
There goes the bell! That means it's time to wrap up this week's post, tidy our tables, gather our things (how did I lose my sock?) and head on home, ready to do it all again next time!
So, if you're looking for the perfect picture books to ease your new starters into your classroom — or if you're an early childhood educator looking to help prepare your intrepid little learners and ensure their transition to primary school is as smooth as possible — then look no further than the titles in the Starting School Book Pack. These sweet, relatable and fiendishly funny books will fill your little ones with knowledge, confidence and empathy as they embark upon this most exciting of new adventures.
See you on the playground!*
*kidding, I'll be in the library.
About the Author
Emily Bruce is the Managing Editor at Modern Teaching Aids (although she prefers the term Grammar-Wrangler-in-Chief). She has worked in children's publishing in the UK and Australia for eight years and is passionate about finding the spark that ignites a lifelong love of literacy in the next generation of storytellers.